Keith Urban - Shuttle Bus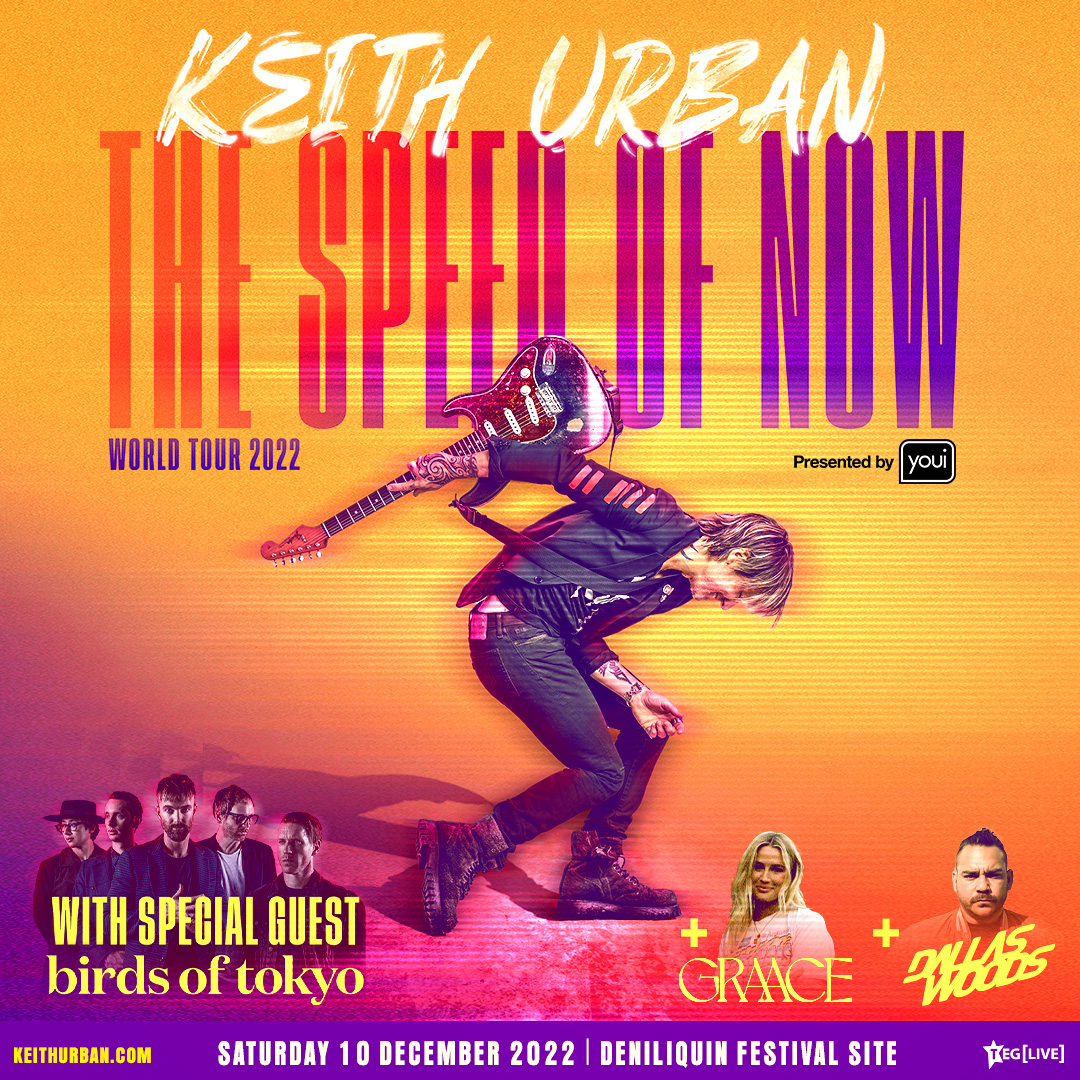 Duration: 360 Minutes (approx.)
Location: Deniliquin, NSW
Product code: KUSB01
TEG LIVE is thrilled to announce the addition of a Deniliquin date to Keith Urban's "THE SPEED OF NOW WORLD TOUR 2022", presented by Youi, this December. The highly anticipated Australian tour will now be extended to 11 shows around the country.
The special concert event, to be held at the Deniliquin Festival Site, is confirmed for Saturday, December 10, 2022. The line-up includes special guests Birds of Tokyo, GRAACE, and Dallas Woods. Deniliquin is in southern NSW, about 3.5 hours north of Melbourne. Fans are invited to enjoy a weekend away. All tickets come with the choice to add-on camping and transport options.
"THE SPEED OF NOW WORLD TOUR 2022" presented by Youi, will be the first opportunity for fans to see Urban perform songs from his tenth studio album, The SPEED OF NOW Part 1 including the new single, 'Nightfalls'
Enjoy Keith Urban and Dance the night away with no worries about parking, a designated driver or traffic!

Catch a Dyson's Shuttle Bus from $20.00 return!

Buses will depart the Deni Ute Muster site at 10.30pm, 11.30pm and 12.30am

SHUTTLE BUS 1
BIG 4 4.30pm 5.30pm 6.30pm 7.30pm 8.30pm
WHITE LION 4.40pm 5.40pm 6.40pm 7.40pm 8.40pm
MCLEANS BEACH 4.45pm 5.45pm 6.45pm 7.45pm 8.45pm
IGA BUS STOP 4.50pm 5.50pm 6.50pm 7.50pm 8.50pm
UTE MUSTER SITE 5.00pm 6.00pm 7.00pm 8.00pm 9.00pm
SHUTTLE BUS 2
EAST END STORE 4.30pm 5.30pm 6.30pm 7.30pm 8.30pm
RSL CLUB 4.40pm 5.40pm 6.40pm 7.40pm 8.40pm
RIVERSIDE CARAVAN PARK 4.45pm 5.45pm 6.45pm 7.45pm 8.45pm
SPORTIES/CALTEX 4.50pm 5.50pm 6.50pm 7.50pm 8.50pm
PIONEER GARDENS CARAVAN PARK 5.00pm 6.00pm 7.00pm 8.00pm 9.00pm